Description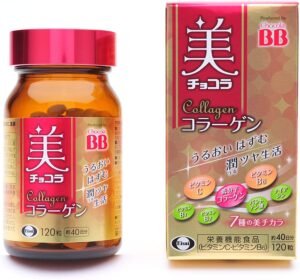 Product introduction
Please refer to the raw materials and refrain from using if you have allergies. Also, do not use if it does not suit your physical condition or constitution.
Contains 7 beauty ingredients, including collagen.
It is a tablet type that is easy to continue every day
[Ingredients] Per 3 grains
Energy ・ ・ ・ 3.77kcal
Protein ・ ・ ・ 0.71g
Lipid ・ ・ ・ 0.04g
Carbohydrate ・ ・ ・ 0.16g
Sodium ・ ・ ・ 6.6mg
Vitamin C ・ ・ ・ 50mg
Vitamin B1 ・ ・ ・ 1mg
Vitamin B2 ・ ・ ・ 2mg
Vitamin B6 ・ ・ ・ 10mg
Niacin ・ ・ ・ 25mg
Pantothenic acid ・ ・ ・ 10mg
Collagen peptide ・ ・ ・ 600mg
Precautions for storage and handling
Avoid heat and humidity and direct sunlight.
After opening, close the cap tightly and consume as soon as possible.
There is a desiccant in the container. Please do not eat.
The filling in the container is to prevent damage to the grains (tablets) during transportation. Discard after opening the container cap.
Raw materials / ingredients
Collagen peptide (gelatin), crystalline cellulose, VC, sucrose fatty acid ester, HPMC, niacin, Ca pantothenate, fine silicon oxide, colorant (titanium dioxide), V.B6, talc, glycerin, glue (gum arabic), V.B2, V.B1, Karnaubarou
Safety warning
[Caution] ・ This product does not cure diseases or improve health by ingesting a large amount. Please follow the recommended daily intake.・ Unlike foods for specified health uses, this product has not been individually examined by the Commissioner of the Consumer Affairs Agency.・ Balance your diet based on staple foods, main dishes, and side dishes.