Description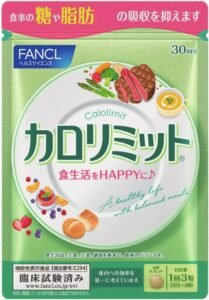 —Item Description—

100% Authentic! New in boxed, and unopened!

Please NOTE!!
Now, Japan post have s a serious delay in package delivery because of reduce the number of airplanes. So, I can not ship by Economy now.  I will ship by DHL.  Please would select "Standard International shipping", not "economy".
2021 New package!
FANCL Calorie Limit Supplement, 90 tablets  (30days)
from Japan!
Mulberry leaf imino sugar: 1.75 mg, chitosan: 100 mg, tea flower saponin: 0.85 mg
How to:
Please enjoy water with 3 tablets a day. 
Avoid intake of more than necessary, please observe the daily measure of volume.
Ingredients—
Mulberry leaf extract powder (mulberry leaf extract, starch decomposition product), tea flower extract powder (tea flower extract, starch decomposition product), starch, edible scallop shell powder, cellulose, chitosan (derived from crab), fine silicon dioxide, hydroxypropyl Cellulose, calcium stearate, mulberry