Description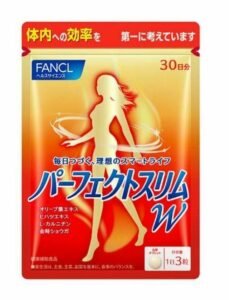 The basis of the diet is moderate exercise and proper lifestyle. Perfect Slim W is a complex combination of ingredients that support "decomposition" and "burning" that are useful for dieting, such as green tea catechin and L-carnitine! Supports an ideal diet.
※In effect there are individual differences.
* A healthy diet requires proper eating habits and exercise. 180 tablets for about 30 days
<Estimated daily> 6 tablets
<Main ingredient / 6 tablets per day> Green tea catechin: 540 mg, L-carnitine: 200 mg, Hihatsu extract powder: 150 mg
<Effective way of taking> After breakfast and other pre-activity meals, take 6 tablets per day together with water. Avoid fasting and eat even a small amount of food before consuming.
※In effect there are individual differences.
<Caution>
* Do not consume if you are pregnant or breastfeeding, or if you are a child.
* In rare cases, people with weak gastrointestinal tract may have symptoms of gastric discomfort.
* If you are taking medicine or are out of the hospital, or if you have an abnormality in liver function tests, please consult with your doctor before taking.