Description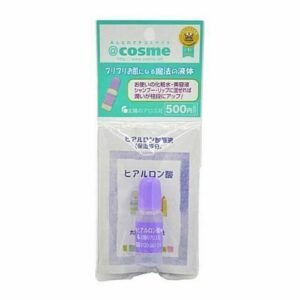 High Quality Hyaluronic Acid 10ml moisturizer from Japan
[Base cosmetic materials] A simple solution containing only hyaluronic acid.
Add this to your lotion, beauty serum, shampoo, or lip cream for a whole new level of moisturizing power!
High-powered moisturizing to fight dry skin while also adding richness and bounce, bringing your skin back to life.
Enjoy added softness and smoothness when used with hair care products. The small bottle can be easily kept in your makeup pouch so you can take it anywhere.
●Contents: 10ml
●Ingredients: water (98.5%), sodium hyaluronate (1.0%), phenoxy ethanol (0.4%), methylparaben (0.1%)
●Item Weight [G]: 18
●Made in Japan
●Brand Name: Seiwa International
●Handling Precautions: Store in the refrigerator and use within 6 months.