Description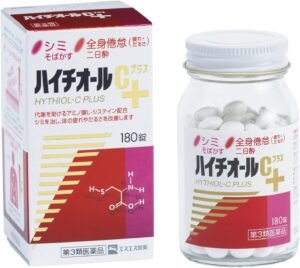 Product introduction
L-Cysteine ​​preparation
Contains L-Cysteine, an amino acid that aids metabolism
What is L-Cysteine?
It is one of the amino acids that make up proteins. It is abundant in the skin and liver and has various metabolisms.
By being involved in, it plays an important role in physical health.
● Helps skin metabolism (turnover) and cures age spots and freckles.
Hythiol C Plus
・ Helps skin metabolism and smoothly excretes excess melanin
・ Suppresses the production of excess melanin that causes stains
・ Colorless black melanin that has been deposited on the skin
By doing so, you can cure blemishes and freckles.
● Helps the body's metabolism (energy production) and improves general malaise (tiredness / fatigue).
If your body's metabolism stagnates for some reason, you will not be able to produce energy efficiently, and you will feel tired and tired.
Will come to feel.
Hythiol C Plus helps enzymes that convert nutrients into energy,
Eliminates tiredness and dullness by smoothing the production of energy in the body.
● Helps break down the causative agent of sickness and improves symptoms.
The cause of a hangover is a substance called acetaldehyde, which is produced in the process of metabolizing alcohol.
Hythiol C Plus helps break down acetaldehyde and improves the symptoms of a hangover.
About sales of pharmaceutical products
● Precautions for use
■■ What you should not do ■■
■■ Consultation ■■
1. If you experience any of the following symptoms after taking this medicine, it may cause side effects, so take it immediately.
Please discontinue and consult your doctor, pharmacist or registered distributor with this manual
Related parts ・ ・ ・ Symptoms
Skin … rash
Digestive system: nausea / vomiting, abdominal pain
2. After taking this medicine, the following symptoms may appear, so these symptoms may be sustained or enhanced.
If you see any of the above, discontinue administration and bring this manual to your doctor, pharmacist or registration.
Please consult the seller
diarrhea
3. If the symptoms do not improve after taking it for a while, stop taking it and have this instruction manual.
Please consult your doctor, pharmacist or registered distributor
● Efficacy / effect
● Pigmentation such as age spots, freckles, and sunburn
● General fatigue
● Two sickness
● Acne, eczema, hives, rashes, medicine
● Usage / Dose
Take the following dose 3 times a day with water or lukewarm water.
Age ・ ・ ・ 1 dose
Adults (15 years old and over) ・ ・ ・ 2 tablets
7 to 14 years old ・ ・ ・ 1 tablet
Under 7 years old … Do not take
<Notes related to usage / dose>
(1) Please strictly observe the usage and dosage.
(2) You can take it at any time before or after meals.
(3) If you want to take it to children, please take it under the guidance and supervision of their parents.
● Ingredients / quantity
In 6 tablets (daily dose for adults)
Ingredients … quantity
L-Cysteine ​​・ ・ ・ 240mg
Ascorbic acid (vitamin C) ・ ・ ・ 500mg
Calcium pantothenate ・ ・ ・ 24mg
Additives: Silicon Dioxide, Calcium Lactate, Sucrose, Hydroxypropyl Cellulose,
Hypromellose, Ca carbonate, carnauba wax, magnesium stearate, talc, titanium oxide,
Corn starch, pullulan, polyoxyethylene polyoxypropylene glycol
● Taking this drug may affect the test values ​​of urine and stool.
If you are going to be examined by a doctor, please inform your doctor that you are taking vitamin C.
● Precautions for storage and handling
(1) Keep the bottle lid tightly closed in a cool, dry place out of direct sunlight.
please.
(2) Please keep out of reach of children.
(3) Do not replace with another container.
(It may cause misuse or change the quality.)
(4) Do not handle this product with wet hands. If you handle it with wet hands, the sugar coating will be uneven.
It may discolor or discolor.
(5) The claws in the bottle are to prevent the tablets from being damaged during transportation.
Please remove it as it is no longer needed after opening.
(6) Do not take anything that has passed the expiration date.