Description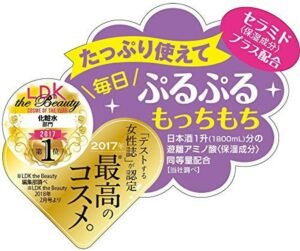 A lotion containing 500 ml of sake. " Sake lotion " has been well-received as " moisturizing " because the main amino acids of 1 sho (1.8L) of sake are concentrated in this bottle and the feeling of use is light.
In response to the voice of "I want a moist type", "High Moisturizing" with enhanced moisturizing power while keeping the base is now available!
Compared to " Sake Toner ", it has a slightly thicker texture and ◎ penetration.
In the days when there were no cosmetics, Geiko, who appeared in public, used the remaining sake diluted with water to condition her skin. In fact, it is said that the amino acids contained in sake have a moisturizing effect.
Even in this "lotion coercive humidity of Japanese sake", " lotion of sake in the same way", contains the main amino acid of Sake 1 bushel minutes to one.
In addition, placenta extract and arbutin as moisturizing ingredients, and ceramide, a highly moisturizing ingredient that decreases with age, are blended. It is designed to keep you moisturized without using milky lotion.
Please use it on the whole body as well as the face. It is more effective to soak it in cotton or tissue paper and pack it for about 5 minutes on the face and other areas where you are concerned about dryness.
[Product specifications] capacity 500ml All ingredients Water, glycerin, BG, fermented rice, glutamic acid, arginine, leucine, ceramide 3, ceramide 6II, placenta extract, arbutine, glycyrrhizinate 2K, soy protein, maltitol, methylgluces-10, PEG-60 hydrogenated castor oil, hydroxy Ethyl cellulose, (styrene / alkyl acrylate) copolymer Na, citric acid, Na citrate, phenoxyethanol, methylparaben, fragrance