Description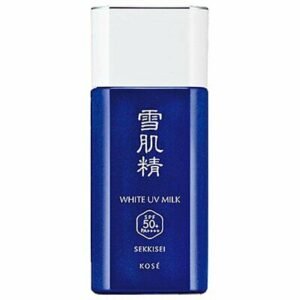 Guidance on use
When removing, lather cleanser and body cleanser well and wash carefully. If you find it difficult to remove, we recommend using a cleansing agent. Please be careful not to get it on your clothes. When it gets wet, immediately wash it carefully with detergent. Please avoid the use of chlorine bleach. In case of contact with eyes, rinse immediately. Please be careful about fire. Carefully check that you have no abnormalities on your skin before using. Do not use on areas with an abnormality such as scratches, swelling or eczema. Should you observe any abnormalities such as redness, swelling, itchiness, irritation, color loss (white spots etc.) and skin darkening, discontinue use and consult a dermatologist. Symptoms may worsen with continued use. After use, please tighten the cap properly. Keep the bag in a safe place so that you can read it when you need it.
Raw materials / ingredients
Water, cyclomethicone, zinc oxide, ethanol, ethylhexyl methoxycinnamate, alkyl benzoate (C12-15), isododecane, (HDI / PPG / polycaprolactone) crosspolymer, tripropylene glycol, diethylaminohydroxybenzoyl hexyl benzoate, bisethylhexyl Oxyphenol methoxyphenyl triazine, saccharomyces / honeybee seed fermented liquid, tenninka fruit extract, touki root extract, tocopherol, merosria root extract, BG, BHT, isostearic acid, silica, squalane, zeolite, talc, hydrogen dimethicone, macademia nut fatty acid phytosteryl Silica, fragrance, mica
how to use
Shake well and then spread a sufficient amount evenly. For face, use at the end of morning skin care. For the body, take a line directly from the container onto the skin and spread it evenly in a circular motion with the palm of your hand. If the amount used is small, a sufficient UV protection effect cannot be obtained. Please repaint frequently. Please repaint after wiping with a towel and after sweating.
Note (Disclaimer)> Please be sure to read
[About the product]: Product packaging, prescription, etc. are subject to change without notice due to reasons such as renewal. [About the image]: Due to the nature of the image and monitor, the color of the actual product may differ. Thank you in advance for your understanding.
Skin care UV milk
A sunscreen cosmetological emulsion that prevents skin damage * 1. * 1 Spots caused by dryness, rough skin, and sunburn
Product features
The feeling of skin care is enhanced. The strongest moisturizing UV milk that prevents dryness, rough skin, and spots * 2 and protects the transparency.
Newly adopted dry protect prescription. Moisturize while wearing.
70% beauty essence containing fermented Coix seed extract * 4. Contains a high concentration of beauty essence ingredients such as fermented Coix seed extract, which has a high moisturizing effect.
Contains UV-cutting ingredients with good dispersibility. Achieves a smooth, non-greasy and comfortable skin.