Description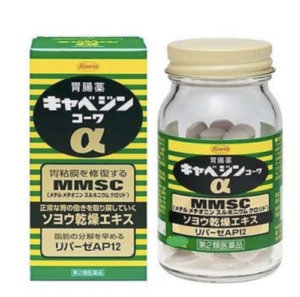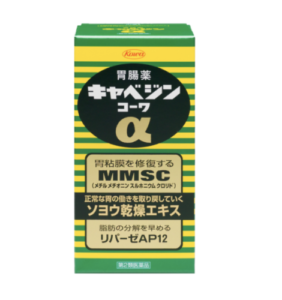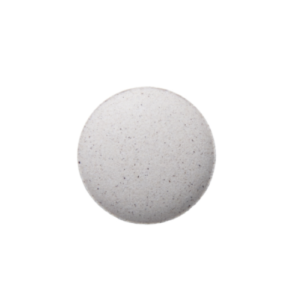 Features
Feature 1
Feature 2
DL (Double Layer) Effect
Each active ingredient works effectively, thanks to the double-layer structure which consists of an outer layer and a tablet core.
1. CABAGIN tablets have a double-layer effect.
2. Antiacid ingredient in the outer layer relieves the pain in stomach by neutralizing gastric acid and creates an amicable environment for digestive enxyme.
3. The tablet core melts slowly.
4. Each active ingredient such as scopolia extract and digestive enzymes work effectively. MMSC, perilla herb and swertia herb work together to improve weakened stomach.
Feature 3
Featured with stomachic herbal medicines that improve gatric function
– Perilla herb extract powder: effective for improving gastric function
– MMSC (Methylmethionine Sulfonium Chloride): repairs damaged gastric mucosa
– Antacid: neutralizes excessive gastric acid.
– Lipase AP12: helps digest fats.
---
Specifications
Efficacy
Stomach distress, gastrasthenia, heavy feeling in the stomach, stomachache, overeating, overdrinking, heartburn, nausea (retching, churning of stomach, nausea due to hangover/overdrinking, sickness, nausea), vomiting, loss of appetite, indigestion, gastric hyperacidity, belching, dysphagia, promoting digestion, feeling of fullness in the stomach/abdomen, and stomach heaviness.
Usage
Take the tablets with room temperature or warm water after meals.
| Age | Dose | Dose in day |
| --- | --- | --- |
| Adults (15 years and older) | 2 tablets | 3 times |
| 8-15 years of age | 1 tablet | 3 times |
| Children (Under 8 years of age) | Do not use. | |
Ingredients in 6 tablets
| Ingredients | Amount | Function/Capability |
| --- | --- | --- |
| Methylmethionine sulfonium chloride | 150.0mg | Membrane repair ingredient |
| Sodium bicarbonate | 700.0mg | Antacid ingredient |
| Magnesium carbonate | 250.0mg | Antacid ingredient |
| Precipitated calcium carbonate | 1200.0mg | Antacid ingredient |
| Scopolia extract powder (33.3%) | 90.0mg (30.0mg as scopolia extract) | Antacid ingredient |
| Perilla Herb powdered extract | 30.0mg (270.0mg as perilla herb) | Stomachic |
| Powdered Swertia Herb | 30.0mg | Stomachic |
| Biodiastase 2000 | 24.0mg | Digestion ingredient |
| Lipase AP12 | 15.0mg | Digestion ingredient |