Description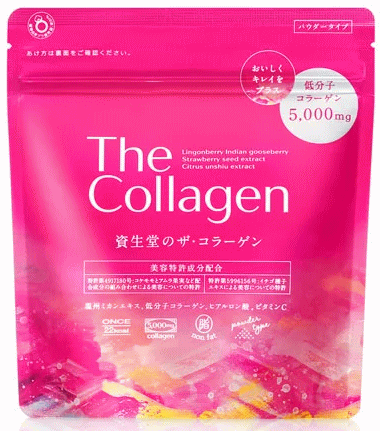 of item
Collagen drink

Nurtures the basis of beauty and makes daily life with elasticity In addition to 5,000 mg of low molecular weight collagen, beauty patented ingredients derived from super fruits (bilberry + amla fruit), strawberry seed extract, Wenzhou orange extract, hyaluronic acid, vitamin C Formulated. A powder that cuts the taste and odor peculiar to collagen. Adds beauty to your daily diet. Beauty patent ingredient combination patent No. 4917180: Patent patent No. 5996156 for beauty by combining ingredients such as cowberry and amla fruit: Patent for beauty with strawberry seed extract <For this person> ● I want to spend a firm day ● People who want to be beautiful forever ● People who want to take collagen casually and actively ● People who are highly conscious of beauty

Efficacy / effect
Precautions for use
◇ After opening, close the chuck tightly, store it away from direct sunlight, high temperature and humidity, and consume as soon as possible. ◇ If powder adheres to the chuck, it will be difficult to close it, so remove the powder before closing it tightly. ◇ Do not put a wet spoon in the bag. ◇ Depending on what is melted, it may become cloudy or a layer may form over time, but there is no problem with the quality. If a layer is formed, mix well again before serving. ◇ Consume as soon as possible after melting. ◇ Please note that if you put the powder directly into your mouth, it may get stuck in your throat. ◇ As it contains a desiccant, please be careful not to accidentally consume it. ◇ Please refer to the ingredients and do not consume if you have food allergies. Also, depending on your constitution and physical condition, it may not fit in rare cases, so please refrain from using it in that case. ◇ Please consult your doctor or pharmacist in advance if you are undergoing treatment due to illness or if you are pregnant. ◇ Because of the use of plant extracts, black spots derived from the raw materials may be seen and the color tone of the powder may vary, but there is no problem with the quality. ◇ Balance your diet based on staple foods, main dishes, and side dishes.

Ingredients / quantity

Collagen peptide (including gelatin) *, milk calcium, amla fruit extract, strawberry seed extract, moss peach juice, palatinose heated product, dextrin, hyaluronic acid, Wenzhou citrus extract / trehalose, vitamin C, fragrance, cyclodextrin, sweetener (stevia) ) * Please see the actual product for the name of the place of origin of the main ingredient. Main ingredients [per serving (6g)] Collagen 5,000mg / hyaluronic acid 1mg Nutritional ingredients [per serving (6g)] Energy 22kcal / protein 5.4g / lipid 0g / carbohydrate 0.15g / salt equivalent 0.061g / vitamin C 100mg
Usage / dose
Dissolve about 6g (1 tablespoon) once a day in your favourite drink or food and mix well.
Internal capacity
126g
Precautions for storage and handling
(1) Store in a cool, dry place out of direct sunlight. (2) Please keep out of reach of children. (3) Do not replace with another container. (It may cause misuse or change the quality.) (4) Do not take the product after the expiration date (listed on the outer box).