Description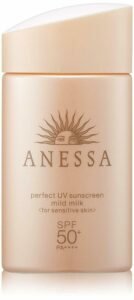 Product introduction
A mild type that is mild and can be used by babies and kids. It becomes stronger when it comes in contact with sweat or water. Strong UV. Sunscreen for face and body equipped with "Aqua Booster". You can remove it with soap. Additive-free *, fragrance-free, and coloring-free. Super waterproof that has been confirmed to be water resistant by a water bath test for 80 minutes. * No alcohol, preservatives (parabens), mineral oil
Precautions for use
Be careful not to get this in your eyes. If it gets in, immediately rinse with cold or lukewarm water. After use, wipe the mouth of the container clean and close the cap properly. Keep out of reach of infants. Please be careful about fire. Do not leave in the sun or high temperature. If it gets on your clothes, immediately wash it off with detergent. Please avoid using chlorine bleach as it will turn pink. If it gets on anything other than clothing, wipe it off immediately. Be careful not to get it on furniture, accessories, nails, leather products, etc. as it may discolor or be damaged. Please note that if the skin after application is rubbed against clothes or car seats, it may remain white. * The SPF and PA indications of the product are the results measured by applying 2 mg per 1 cm2 of application amount specified in the international SPF test method to the skin.
Raw materials / ingredients
Cyclopentasiloxane, zinc oxide, diisopropyl sebacate, methyl crosspolymer methacrylate, water, cetyl ethylhexanate, pentaerythrityl tetraethylhexanoate, triethylhexanoin, BG, diethylhexyl succinate, titanium oxide, dimethicone, glycerin, poly Methylsilsesquioxane, dextrin palmitate, PEG-9 polydimethylsiloxyethyl dimethicone, ethylhexyltriazone, hexyl diethylaminohydroxybenzoylbenzoate, disteardimonium hectrite, trimethylsiloxysilicic acid, bisethylhexyloxyphenol methoxyphenyltriazine, PEG / PPG-14 / 7 Dimethyl ether, Na chloride, Glycyrrhizic acid 2K, Touki root extract, Wild thyme extract, Isayoibara extract, Na hyaluronate, PEG-10 dimethicone, Al hydroxide, Steric acid, Silica, Na citrate, Pyro Na sulfite, tocopherol
how to use
Since it is a 2-layer type, shake it well before using it. For the face and neck, take an appropriate amount at the end of morning skin care and apply it evenly and carefully. For the body, take a line directly from the container onto the skin and apply it evenly in a circular motion with the palm of your hand. If the amount used is small, the UV protection effect will not be sufficient. If necessary, reapply after sweating or wiping with a towel. When removing it, wash it off carefully with your usual cleaning agent.